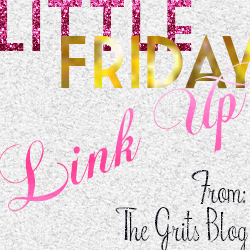 I'm linking up with Ashley for another round of Little Friday. We have thankfully almost made it to another weekend!
I'm always trying to "up" my makeup game. Maybe it's part of getting older but I'm on a constant search for products that get the job done. Since I transitioned from powder to liquid foundation, I've noticed that my skin looks younger, but the makeup tends to fade faster. My skin is oily, and, given our recent humidity, my face melts off most days. Instead of going back to powder foundation, I bought a different BB Cream.
I have discussed my love for
Garnier BB Cream
a few times, but, with my new foundation, it doesn't ALWAYS cut it. If you're looking for a budget-friendly BB Cream, nothing is better. However, if you're willing to splurge, my suggestion is
Stila Stay All Day 10-in-1 HD Beauty Balm
with SPF 30.
BB creams moisturize, provide SPF, and give decent coverage. They do provide some anti-aging benefits, but you should only use them as a supplement to your other products. I cannot wear the Garnier BB Cream alone- it doesn't provide the level of coverage I want, though I think it's sufficient for most people. I can, however, wear the
Stila BB
cream alone. It's thick like a foundation but easier to apply. It decreases the appearance of my pores and dark spots and keeps my foundation flawless all day. Because my skin is oily, I find myself touching it up with powder throughout the day. I have not had to do this while using Stila BB cream.
Ulta sells a
Stay All Day 10-in-1 HD Beauty Balm Trio
(mini sizes of the regular beauty balm, illuminating beauty balm, and bronzing beauty balm) for $12.00 so try it out before you splurge on the full-size bottle.
I highly recommend both products- choose based on your skincare needs!
What's your favorite BB Cream? Or CC Cream?