I'm co-hosting Little Friday with Ashley from The Grits Blog again today. Thanks for stopping by!
I wrote a post earlier this week regarding my summer wish list. Most of the items on the list are high-end… But my tastes run the price gamut. As I always say, you don't have to spend a lot of money to look fabulous!
I'm attempting to step out of my comfort zone and try new lip shades for summer. I've seen such gorgeous colors popping up everywhere- I had to try some for myself!
I honestly don't see a huge difference between inexpensive and expensive lipsticks. A few cheaper brands make my lips drier and flakier than the expensive brands, but that's it. I don't find this to be the case with Maybelline, however! I purchased one at Rite Aid and one at Kroger; both were under $6.00!
If you're not a Barbie pink lipstick fan (like me), Wild Rose & Fifth Avenue Fuchsia are good compromises- they're the perfect amount of pink! They're subtle enough to wear to work but also fun for date night.
Apologies for my post-workout selfie (the class is held at work at the end of the day- no time for makeup removal). I am not smart enough to figure out the timer setting on my camera and I smelled too bad to ask Jason to take it.
Wearing Fifth Avenue Fuchsia.
If you received an email with a partially-written post, I sincerely apologize! Somehow the blog published when I uploaded my photo.
What's your favorite summer lipstick or drugstore buy?
Rules are there are no rules!

Please link-up to whatever you like!
All that we ask is, if you wish, please follow us via the links above and that you link back to this blog – so that other's can join in and mingle!
Happy Little Friday Everyone!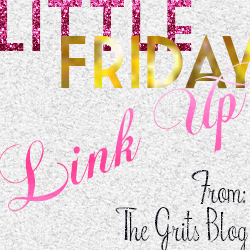 <div align="center">
<a href="http://gritstheblog.blogspot.com/" title="The Grits Blog"><img src="http://i121.photobucket.com/albums/o204/thegritsblog/LittleFriday250_zps31e868bd.png" alt="The Grits Blog" style="border:none;" /></a></div>

You are next…
Click here to enter
This list will close in 6 days, 16 hrs, 13 min (6/18/2014 11:59 PM North America – Eastern Standard Time)
You are next…
Click here to enter
This list will close in 6 days, 16 hrs, 16 min (6/18/2014 11:59 PM North America – Eastern Standard Time)
You are next…
Click here to enter
This list will close in 6 days, 16 hrs, 21 min (6/18/2014 11:59 PM North America – Eastern Standard Time)
You are next…
Click here to enter
This list will close in 6 days, 16 hrs, 22 min (6/18/2014 11:59 PM North America – Eastern Standard Time)
You are next…
Click here to enter
This list will close in 6 days, 16 hrs, 23 min (6/18/2014 11:59 PM North America – Eastern Standard Time)
You are next…
Click here to enter
This list will close in 6 days, 16 hrs, 29 min (6/18/2014 11:59 PM North America – Eastern Standard Time)
You are next…
Click here to enter
This list will close in 6 days, 16 hrs, 36 min (6/18/2014 11:59 PM North America – Eastern Standard Time)
You are next…
Click here to enter
This list will close in 6 days, 16 hrs, 36 min (6/18/2014 11:59 PM North America – Eastern Standard Time)