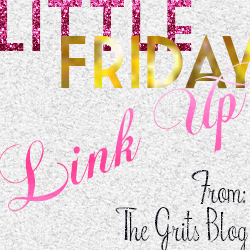 Today I'm co-hosting Little Friday with my friend Ashley from The Grits Blog. If you're not familiar with Ashley, please check her out!
I admit I'm a bit apprehensive to share this post for two reasons: One- I'm NOT a home style expert. Pinterest is my friend! Two- My photography skills leave much to be desired. The photos were taken with my week-old DSLR camera, but I haven't quite figured out all the bells and whistles. Any tips appreciated!
Instead of talking makeup today, I'm going to discuss decor. How you decorate your home is a reflection of your style. Everyone has different tastes so use what you enjoy!
Last summer we splurged on a new mattress. Budget blown but totally worth it. However, I still wanted to add some personal, feminine touches to make our room feel less bachelor-like.
Here's what I added to my nightstand:
Lamp- Clearance section of Lowe's ( $15.00)
Print- The print on my side of the bed is actually a birthday card. It framed beautifully! The frame is a clearance item from TJMaxx (card was a gift from the SJP line at Hallmark and the frame cost $6.00)
Tray- Clearance item from Target ($7.00)
Candle- A gift from several years ago. I love the monogrammed etching!
Flowers- Fresh flowers add a pop of color to any space! Pink carnations are a favorite of mine… they're typically inexpensive to boot!
The second nightstand:
Print- Amanda Catherine Designs Etsy shop ($15.00), frame from sale section of Walmart ($7.00)
Vase- Bought at Garden Ridge years ago (under $10.00)
Picture frame- Another Target special ($9.00)
You can also add books or magazines, a clock, or mirror. I have my eye on a horse figurine for Jason's side- we're proud Kentuckians! The possibilities are endless.
I added a little personality to our room for under $75.
Tips:
Search the sale sections of your favorite stores. You never know what great deals you'll find!
Look around the house for pieces that aren't being utilized and add them to your night stand. I had a couple of the older items hid away in one of the closets.
The bedroom is the most personal room in the home- use monogrammed pieces, prints of your favorite quotes, candles, and pictures of you and your significant other.
The other side needs a bit of work!
I love a good monogram!
What's on your nightstand? I'd love to see pictures!