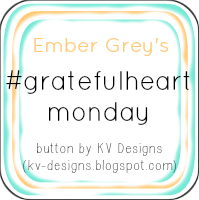 Happy Monday, everyone! I'm linking up with Emily from the Ember Grey blog for another Grateful Heart Monday.
I'm grateful because:
I picked up this awesome cosmetics organizer at TJMaxx Friday. It was only $10! My products are taking over the bathroom- hopefully this will help me keep things a little less cluttered!
We spent some time in Louisville Saturday with my sister and niece. We had such a wonderful night! It was great to show them some of our favorite hangouts and shops. What's better than being with the ones you love?
Jason had to work for a few hours on Sunday which meant I had quiet time to clean and catch up on The Real Housewives of New Jersey (my guilty pleasure). Few things make me happier than a clean house!
Here's to a great week! What are you grateful for today?