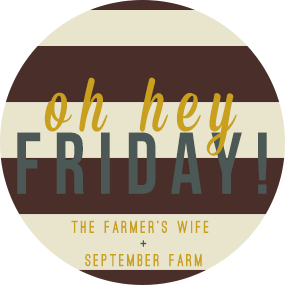 Happy Friday! October flew by too fast for me, but, luckily we have two glorious months left in 2014! I'm always thrilled when October arrives and it seems like the rest of the year runs together.
One
Election Day. I grew up in a politically-involved family, and one of my bachelor's degrees is in Political Science. When I graduated college in 2007, Kentucky was in the midst of a gubernatorial election. I was thrust into the campaign world at that time, and had the privilege of working as a field director for five different campaigns before taking a full-time job with the State Treasurer. I don't work in politics anymore (and don't miss it), but try to stay informed, as is our duty. It's difficult to articulate why I love Election Day so much… But I truly love seeing everyone from different walks of life standing in line, waiting to cast their ballot. We voted on Tuesday during my lunch break, and, while I was frustrated at how long it took, the number of people at our polling location brought tears to my eyes. I am thankful as a woman, and human being, that I have the right to vote, and that I can vote differently than my significant other (I do). Tuesday night, we enjoyed a peace-offering in pizza form while watching the returns come in and tried to avoid political arguments. Apologies for the ramble; it's one of my favorite days.
Two
Waking up at home Thanksgiving morning and watching the Macy's Thanksgiving Day Parade. Never mind that I'm almost 30, It is still one of my favorite things. I've thought of offering to host Thanksgiving, but nothing beats waking up in your childhood home to the smell of turkey. Don't you wish you could bottle that feeling? Nothing makes me feel more grateful.
Last Thanksgiving. Love her sweet face.
Three
The return of college basketball. Football season is great, but, if you live in the Commonwealth, it's all about basketball. I'm sorry if you cheer for anyone other than the Kentucky Wildcats… because your team doesn't stand a chance. Let the smack talk begin!
Four
More time with family. All the extra time with loved ones makes the hustle and bustle worth it.
Five
The beginning of the holiday season. It seems to start earlier every year- we heard Christmas music on the radio driving home from Dracula Halloween night. Gracious. But there's clearly something magical and wonderful in the air for the next 7 weeks.
Check out the reasons I love October
here
.
What do you love about November?