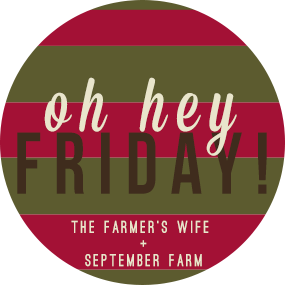 TGI(freaking)F! We've made it, friends! Let the weekend begin!
Bourbon is having a moment, and no one is more thrilled than me. I could talk about it all day; I know you're surprised.
I consider September through April to be bourbon season, and there's no better time to imbibe than during the holidays. For those of you entertaining guests or needing gift ideas for the bourbon lovers in your life, I've rounded up a few of my go-to drinks, recipes, and products:
Bourbon Balls
: Chocolate and bourbon: what could be better? You can purchase these everywhere this month in Kentucky, but for those of you out of state who would like to serve or bring something a little different, give
this recipe
a whirl. If cooking isn't your thing, order Maker's Mark Bourbon Balls
here
.
Crock Pot Bourbon Hot Chocolate
: I posted the
full recipe here
… this is a perfect drink for watching Christmas movies while snuggled under the glow of the Christmas tree.
Eggnog Punch: If you really want to make spirits bright, try this delicious eggnog punch, then add bourbon to taste.
Bourbon Dogs
: I think Lil' Smokies are served at about every party from now until Super Bowl Sunday, and for good reason; they're versatile and simple. Below is a delicious party recipe (image and recipe from
www.hillshirefarm.com
).
Gifts:
Have a bourbon lover in your life? Is it me? Below are fantastic and unique gifts, including two of our favorite bourbons, a package of ice sphere molds (the ONLY way to drink bourbon on the rocks), a decanter (a similar one might be under my tree…), and a delicious-smelling bourbon candle. How festive!
Any bourbon recipes you'd like to share? What's your favorite brand?