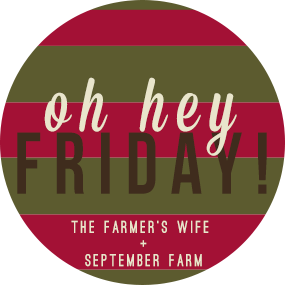 Happy Friday, friends! This has been a week for the record books. I'm thisclose to finishing my big work project and have completed 400 pages in under two days. I feel accomplished but exhausted. Because I've spent an inordinate amount of time on the computer this week at work, my creativity and wrists are in need of a break. And wine. So, I bring to you my favorite Christmas posts from other bloggers.
One of my favorite things about blogging is the awesome women I've "met." They inspire and motivate me and help make me a better woman and blogger. Hope you'll check out this talented group… if you haven't already!
Alex from Always, Al made a delicious-looking Bourbon Pecan Pie for Thanksgiving. It's bourbon. It's pie. It's life. I can't wait to try it!
To stick with the food theme, Rachel from Running in NJ made White Chocolate Cranberry Walnut Cinnamon cookies for her coworkers. I seriously wish I worked with her- for more reasons than one! Another recipe that's perfect for the holidays.
Anne from Love the Here and Now posted a gorgeous wreath DIY and pictures of her beautiful, festive home. I loved all of her Christmas-themed posts!
Chelsea from The Girl Who Loved to Write nailed it with a to-do list on how to spend December. Her posts always put me in the best mood!
Taylor from Tay Meets World posted FABULOUS gift guides! Follow along with her #Blogmas prompts and check out her adorable holiday-themed home page, which I know had to be designed by Ashley from The Grits Blog!
There were many more that I loved, but, I wanted to keep it to five! I'm a rule follower.
What posts did you love this week?