Thanks for joining another edition of Beauty A-Z! I appreciate all the comments from last week; hope you'll participate and stay engaged!
"B" is for blush! Some people find blush intimidating, but I never leave home without it. I'm incredibly fair-skinned and find I need a pop of color on my cheeks. Today I'm going to discuss how to apply it, color options, and my favorite shades. I'm opting for a simple tutorial- different shades can be applied different ways to different face shapes. Whew! Here's are some day-to-day tips:
Blush
A blush brush. Simple enough, right?
Blue undertones (typically darker complexion): to stand out, choose vibrant shades of pink, and, if you're daring enough, orange!
Yellow undertones (typically olive complexion): to brighten, opt for reddish pinks.
Red or Pink undertones (typically fair complexion): to look natural, stick with peach and light pink.
My skin is oily, so I go with powder blushes. If you have dry skin, give cream blush a try! I apply blush after foundation and before setting powder. I think powder tones it down a bit.
If you've applied too much (it happens to us all!), take a cotton ball and swipe away. Apply powder when satisfied.
You can find my favorite products, tools, and shades below.
The Stila products are AWESOME because they react with the wearer's pH level to create the perfect, customized color. Take the guesswork out of it, friends! And you know I had to throw in some of my favorite budget brands! Sonia Kashuk's Flamingo is one of my all-time favorite shades! As I've mentioned before, elf's Peachy Keen is the drugstore, super budget-friendly equivalent to NARS Orgasm. Check it out!
What blush tips do you have to share? What are your favorite brands?
Don't forget to join in the fun!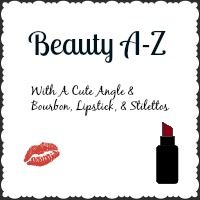 <div align="center">
<a href="http://www.bourbonlipstickandstilettos.com" title="Bourbon, Lipstick, and Stilettos"><img src="http://i1296.photobucket.com/albums/ag10/lindsaylatimer/button1_zpsc043fd58.jpg" alt="Bourbon, Lipstick, and Stilettos" style="border:none;" /></a></div>