Thank you for stopping by the first Beauty A-Z link-up! Ashley from
A Cute Angle
and I "met" through blogging, and, after following each other for several months, realized we had a lot in common. And that's how this link-up was born!
The premise is simple: every Thursday, we'll share our favorite brands, tips, tricks, or tools that correspond with that week's letter. We'll make our way through the alphabet the next 26 weeks; hope you'll follow along and join in! Make some new friends, learn some new tricks, and discover new brands!
At age 29, I still wake up some mornings with a breakout. Good Lord. Does it not end? Anyway, it's never one blemish here or there- if I have one, I have a dozen. I have tried a million products since I was a teen, and the BEST remedy I've discovered is the Purifying Mud Mask. This mask detoxifies pores, hydrates, and soothes. While some masks on the market absorb all the oil on your face (including the essential stuff!), this mask does not parch or irritate your skin. However, it does dry out all of your blemishes- and does so quickly.It works great as a preventative measure and even better during a full-blown outbreak.
Mineral Hand Cream
If there's ever a time to maintain the appearance and texture of your hands, it's now. Between the frigid temperatures, dry heat, and repeated hand washing to fend off illness, your hands take a major hit. Dry, cracked hands not only look unattractive, but can be painful, too. I keep this by my desk and apply it after I wash my hands. This cream contains witch hazel and aloe vera for optimal moisture. No chapped hands here!

Ahava products can be found in-store and online at Ulta. Have you tried this brand?
Make sure to link up below and come back next week to discuss all of your favorite "B" products and tips!
To add to the excitement, enter our $150 Target gift card giveaway below! Good luck (and good luck only spending $150!)!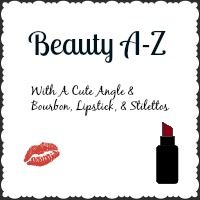 <div align="center">
<a href="http://www.bourbonlipstickandstilettos.com" title="Bourbon, Lipstick, and Stilettos"><img src="http://i1296.photobucket.com/albums/ag10/lindsaylatimer/button1_zpsc043fd58.jpg" alt="Bourbon, Lipstick, and Stilettos" style="border:none;" /></a></div>