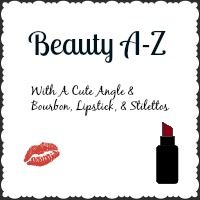 Thanks for joining us for Beauty A-Z! For E, I'm discussing how to apply eye shadow.
Like every makeup technique, each person will apply eye shadow in a different manner. We were all given unique eye shapes and colors: what looks good on me might not look good on you and vice versa. I don't want to take you down the rabbit hole, so here are my basic tips on applying your desired shade(s) of eye makeup.
One:
Prep your eyes. You will regret not wearing an eye shadow primer- promise. I'm not going to put work into something that's going to crease halfway through my day. I LOVE elf's shadow primer (it's only $3!).
Two:
Cover your lids using a neutral color. I prefer nude and brown shades and choose a matte neutral for my lids.
Smashbox Full Exposure Palette // NYX Hot Singles Eye Shadow in Lace // NYX Love in Florence Palette (sold out)
Three:
Apply darker color in the crease and blend. I blend along the crease and create a triangle-shaped design on the outside corner.
While I don't blend the darker shade with as sharp a point as a triangle, it follows the same large to small principle.
Four:
Highlight brow bone. You need to use your lightest shade for this step. I actually prefer using the highlight shades from my IT Cosmetics contour palette, but you can use an eye shadow or white eyeliner (if blended properly).
Tips:
I've heard eye shadow application referred to as a "rainbow"- the colors should blend seamlessly. I think it's a perfect analogy! The older I get, the more I'm drawn to matte shades: I believe they hide age better than their shimmery counterparts. If you're going to invest in a palette, it should include both matte and shimmer options. Of course, you can buy stand-alone shadows (I love NYX and NARS).
Tools:
I see nothing wrong with using the provided sponge applicators (the color will be more intense), but you can purchase separate brushes. I use the two-sided brush from my Smashbox palette most days.
Color:
I have hazel eyes and lean towards taupe, gold, and brown eye shadow shades. While you don't have to follow the suggestions below, the recommended colors do make your gorgeous eye pop!
An InLinkz Link-up
Make sure to enter our Victoria's Secret giveaway- just in time for Valentine's Day! Good luck!
and now me and some lovely ladies have joined together to give you aa $150 Victoria's Secret gift card to one lucky reader!! Giveaway will last from Feb 4 – Feb 11! go buy something sexy for your partner or just some yummy smelling beauty products. otherwise, we all need a good bra and we know vickey's has the BEST bras. for real. good luck!!
What are your go-to eye shadow tips and shades?