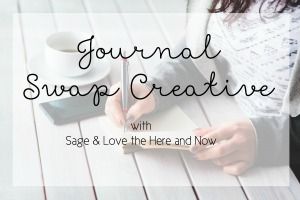 Today is a fun day because I have three great things to share: Beauty A-Z, my Journal Swap reveal, and an interview with your new best friend,
Laura from Life with Lolo
! Let's get to it!
Beauty A-Z
As you likely know, I have an obsession with NYX Cosmetics. I'm a sucker for a bargain, and you cannot beat the price and quality of their products. Below are my favorite items from the brand; you've seen some before and you'll see them again. I am planning a post on the new contouring Wonder Stick (it's WONDERful) but for now take a quick peek:
Journal Swap Creative
I sign up for every swap I'm aware of because I love meeting new people, buying themed-treats, and receiving gifts. So when two of my favorite bloggers,
Sage
and
Love the Here and Now
announced their Journal swap, I had to jump on board!
I was paired with Kenji from
Kenji is Here
. I wasn't really familiar with her blog before the swap so I'm thrilled she was my partner. She's incredibly sweet, genuine, and she just started a series called Workout with Kenji that I particularly love! She emailed me a detailed questionnaire regarding my journal requirements because she is on top of LIFE. Here's what she sent:
LOOK AT THE INSIDE.
My mom bought me the large version of this for Christmas and I absolutely love it. The one Kenji sent is small and the PERFECT size for my purse. I'm still Harriet the Spy at heart and need a notebook at all times. Thanks, Kenj!
Life with Lolo
Laura from
Life with Lolo
reached out to me when I started offering sponsorships. I'd somehow never encountered her blog but now feel like I have a new best friend. She is a girl after my own heart: she loves life, having a good time, and admits she'd buy a Keg-erator if she won a million dollars. Laura co-hosts a weekly linkup called
#HASHTAGHUMPDAY
and shares an array of other amazing topics, like
positive body image
,
blogging
, and.
delicious recipes for Savory Sunday
.
Take it away, Laura!
Give us your elevator pitch and tell us about your blog!
If you like to laugh with a good friend, have a cold beer and unwind after a long day, and live life to the very fullest, Life with Lolo is the place you can come to find that friend and a good beer recomendation. With everything from DIY to travel, lifestyle and a whole lot about my dog, you're sure to find something to make you smile, and I hope, feel like you've made a new friend.
What makes your blog unique?
It's tough to pin down what makes a lifestyle blog unique. I usually find it's rare to not be a mommy, wedding, or style blogger – I'm my own unique brand. Humor, beer, and dogs is my unique mix, although my flexibility to branch out from even that makes me one of a kind!

What is your must-have beauty or skincare product?
I'm not really big into the beauty/makeup scene. Until I started blogging I did the bare minumum. I have evolved since then, but there is still one thing I never leave the house without having. Chapstick. Yes I know, super boring, but I am addicted. I have to have hydrated, soft, silky lips at all times. I love Chapstick brand (birthday cake) or Carmex (strawberry), but I'll take just about anything that works and feels good on my lips. I mean, I'm all about being kissable 😉
What's in store for your blog the next few months? Any projects you want to share?
There's a lot in store in Lolo's world the next few months! While it's mostly life related, we know it will show up on the blog. We're doing a family vacation to Washington D.C. in May and I have a New Orleans Bachelorette Party in June! Plus watch for a new blog design for Life with Lolo's second birthday in July.
Let's be Friends!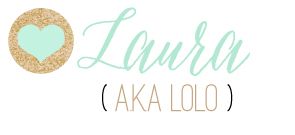 Whew! Thanks for reading!
What's your favorite NYX product? Have you said hello to Laura?